Holiday VISITATION
Thanksgiving 2017 Visitation Hours:
This Thanksgiving, the Department of Corrections will conduct special visitation hours in the Video Visitation Center (located at the former DC General Hospital) and the Correctional Treatment Facility (CTF).
The Video Visitation Center will be open from 8:00 AM to 4:00 PM and CTF visitation will be offered from 8:00 am to 12:00 PM — only on November 23, 2017.
NOTE: Visitation will not be available at the satellite locations on this day.

visitas de Dias FERIADOS
Horario de visitas del día de Acción de Gracias 2017:
Este Día de Acción de Gracias, el Departamento de Correciones llevará a cabo visitas especiales en el Centro de Visitas por Video (ubicado en el antiguo Hospital General de DC) y la Instalación de Tratamiento Correccional (CTF).
El Centro de visitas por video estará abierto de 8:00 AM hasta 4:00 PM ylas visitas de (CTF) se ofrecerán de 8:00 AM hasta 12:00 PM— solo el 23 de Noviembre del 2017.
NOTA: Las visitas no esterán disponibles en los centros satélites este día.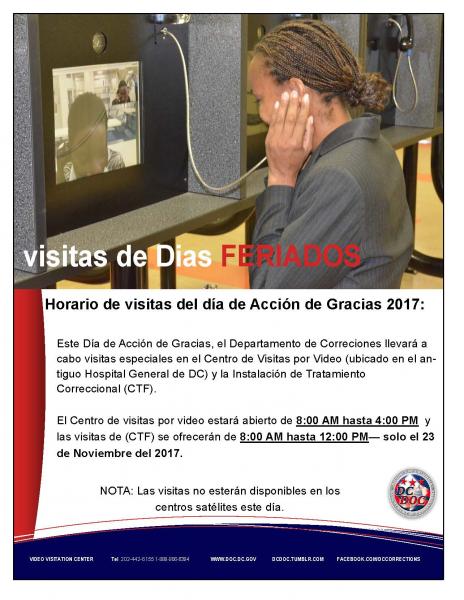 Código de vestimenta para las visitas Rostro a Rostro (en persona)