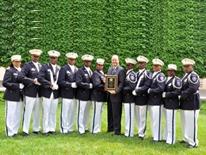 Who We Are
The DC Department of Corrections (DOC) is one of 17 agencies under the District of Columbia's public safety cluster. The DOC mission is to provide a safe, secure, orderly and humane environment for the confinement of pretrial detainees and sentenced inmates, while affording those in custody meaningful rehabilitative opportunities that will assist them to constructively re-integrate into the community.
Established as an agency in 1946, DOC combined the first-built District Jail (1872) with the Lorton Correctional Complex, which began as a workhouse for male prisons in 1910, but later expanded to include eight prisons on 3,000 acres of land in Lorton, Virginia. With the passage of the National Capital Revitalization and Self-Government Improvement Act of 1997, the Department of Corrections transferred the sentenced felon population formerly housed at the Lorton Correctional Complex to the Federal Bureau of Prisons, and discontinued operations there on December 31, 2001.
DOC currently operates one of the 50 largest municipal jail systems in the country with an average daily population of approximately 2,600 inmates. Those in the custody of DOC include males (92 percent) and females (8 percent). The DOC system is comprised of two primary correctional facilities—the Central Detention Facility also known as the DC Jail and the privately operated Correctional Treatment Facility. In addition, DOC contracts with four privately operated halfway houses for the community placement of male/female inmates that offer a variety of educational opportunities and other programming services.
In 2012, DOC achieved national reaccreditation of its medical and mental health service delivery system by the National Commission on Correctional Heath Care (NCCHC). NCCHC accreditation is recognized as the gold standard for jail health care programs. DOC has also received recognition for its pioneering efforts in automatic HIV/AIDS testing, as well as its commitment to innovative thinking.
Both the DC Jail and Correctional Treatment Facility are fully accredited by the American Correctional Association (ACA). This designation reflects compliance with critical safety, security, operational and programmatic mandates.