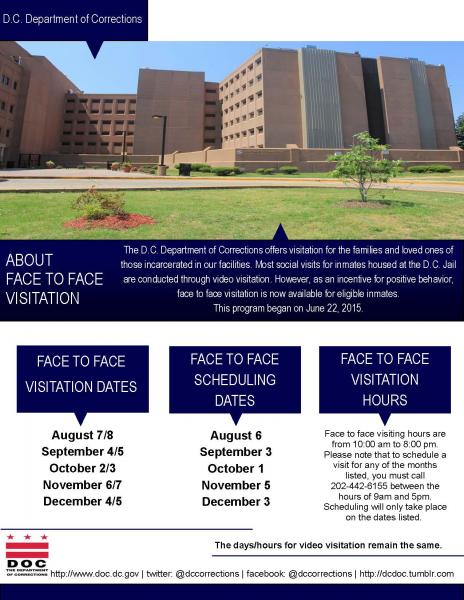 The D.C. Department of Corrections offers visitation for the families and loved ones of those incarcerated in our facilities. Most social visits for inmates housed at the D.C. Jail are conducted through video visitation. However, as an incentive for positive behavior, face to face visitation will now be available for eligible inmates. Dress Code for Visitation and this program begins on June 22, 2015.
FACE TO FACE VISITATION DATES
August 7/8
September 4/5
October 2/3
November 6/7
December 4/5
FACE TO FACE SCHEDULING DATES
August 6
September 3
October 1
November 5
December 3
FACE TO FACE VISITATION HOURS
Face to face visiting hours are from 10:00 am to 8:00 pm. Please note that to schedule a visit for any of the months listed, you must call 202-442-6155 between the hours of 9am and 5pm. Scheduling will only take place on the dates listed.
The days/hours for video visitation remain the same.